When Lehman Brothers filed for bankruptcy I was in the back of my aunt's Honda Odyssey headed north to start my first week at Stanford. Of course, I didn't know about Lehman at the time and I also didn't know much about banking or investing either. I owned no stocks and neither did my family, so why would I notice a market crash? I am reminded of the words from Song of the South by Alabama:
Well somebody told us Wall Street fell
But we were so poor that we couldn't tell
This was different though, because we could tell. We had lost our home 10 months prior and we were feeling the effects of the recession before Wall Street. But, Lehman changed that. Lehman was the wakeup call. As the sun set on financial markets that day, Wall Street would never be the same.
The next morning, Tuesday September 16, 2008, the markets were still in turmoil as I began a new chapter in my life. Here's your lanyard and here's the Dow down 171 points at the opening bell. My convocation was underway as AIG received its $85 billion bailout with markets closing up 1% on the day.
Over the next week I paid less attention to financial markets and more attention to a different trend. It seemed like economics was now the hottest subject in school, temporarily eclipsing the reigning champion—computer science. Econ 1A (now Econ 1) looked more like a rock concert than an introductory economics course and for good reason. Every bright-eyed, bushy-tailed student in the class was wondering what was going on. Outside of this early chatter, I had forgotten we were in a recession. Then winter break happened.
Coming back to have my first meal at Stanford in January 2009 was when I realized that the university was taking the crisis seriously. In the prior quarter, the dining halls resembled more of a country club than an eating establishment. At brunch there was a custom omelette bar, overflowing croissants, and every kind pancake you could imagine. There were blueberries, raspberries, and blackberries galore. They never ran out of anything. Ever. After winter break, this all changed.
I discovered that our meal plans had been cut (no more "rollover" meals), the food selection had been reduced, and they frequently ran out of things that used to be common. At my first meal back my dining hall ran out of croissants and I couldn't believe it. While houses were being foreclosed and jobs were being lost by millions of Americans, my version of the recession was my parents losing their home and my university running out of pastries.
I understand the level of privilege in writing this, but it illustrates a completely different side of the recession that you may not have known about. I didn't experience the recession via the stock market. I experienced it through housing, job changes by my parents, and operational cuts at my school. I say this because you have to remember that your experience of the recession may not be like that of most Americans. Most Americans own little to no equities. Most Americans don't follow markets. Their recession was about homes and jobs, not Lehman and AIG.
This discussion reminds me of an incredible article by Barry Ritholtz that highlights how Millennials that started investing after the recession were twice as likely to have no stocks in their portfolio as those that started investing before the recession. While this is a tragic result, I can't blame them. I watched an asset class go up in flames from the front row ten years ago and still have no desire to buy my own home today. I know I am biased against housing, so how can I expect someone else (who may have a similar bias, but against stocks) to behave differently?
I can't make them forget their experience, but I can show them data. So, let's examine what would have happened to a hypothetical investor that bought in August 2008 right before the crisis:
Within 6 months they would have been down ~40%, hitting bottom in March 2009.
One year later, in August 2009, they would be down 18% from the pre-crisis levels and down only 10% two years later in August 2010.
On the five year anniversary of their purchase, they would have been up 36%, and today, a decade later, they are up 139% (or a 9.1% annualized return) since 2008.
You can see these moments (1 year, 2 year, 5 year, and 10 year anniversaries) here: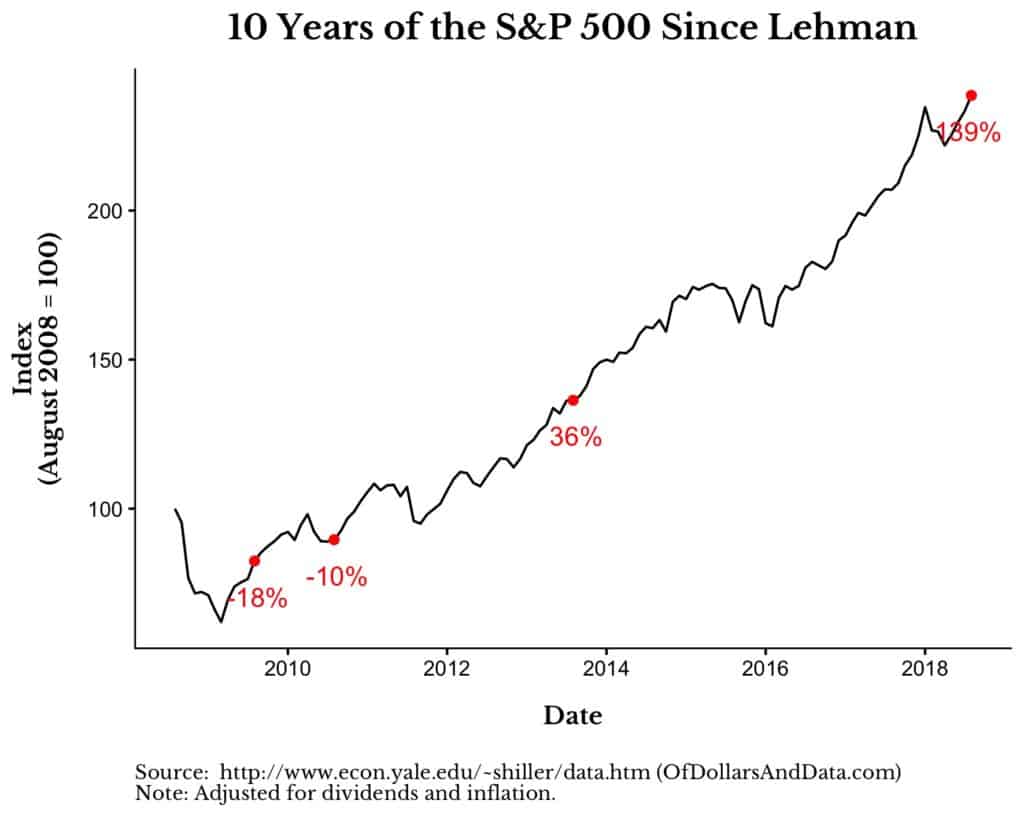 What's even more striking is looking at the drawdown profile since August 2008. Yes, the stock market peak was in October 2007 (so this doesn't show the full depth of the crisis), but it does illustrate how short the deepest drawdown was from the beginning of the larger panic starting in September 2008: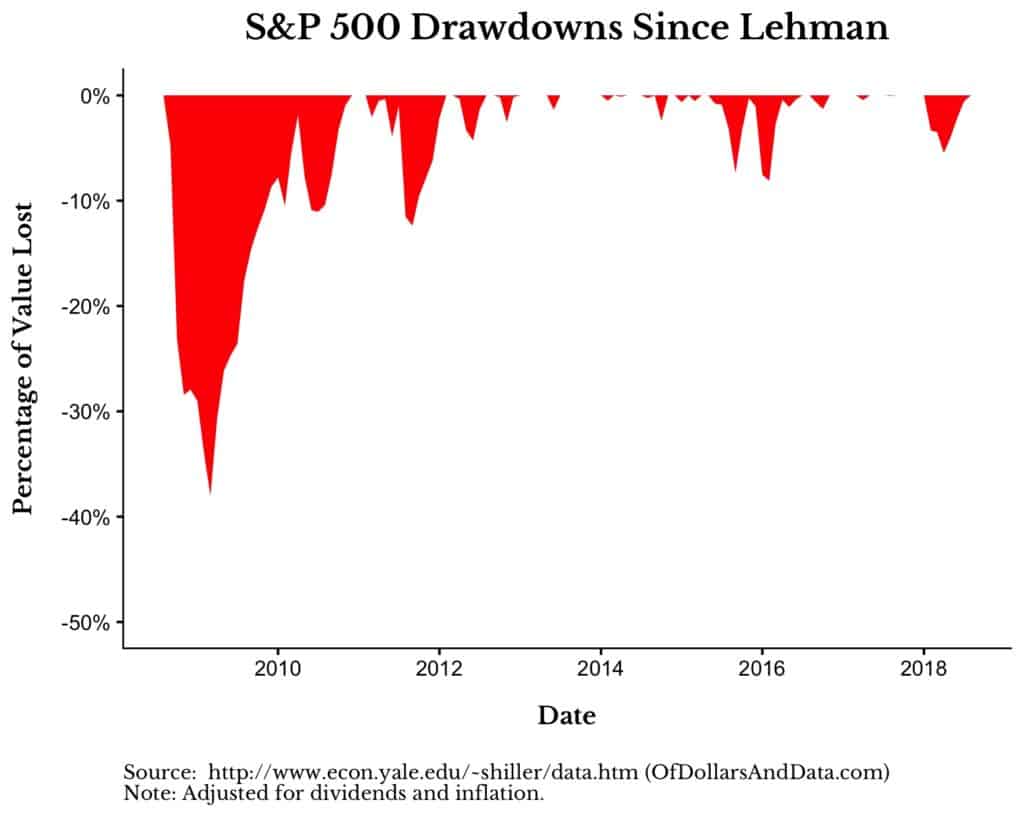 I am not saying it was "easy" to hold throughout this period, but from pre-Lehman to the bottom was only 7 months! If we compare this to the third year of the Great Depression, in which stocks fell 64% from June 1931 to June 1932, there is no contest. Despite all the pain the GFC caused, we are incredibly fortunate that it was not much worse, because, as history shows, it could have been.
---
The Next Ten
My point in recalling my experience (or non-experience) of the financial crisis was to illustrate that things that seem obvious to you and I (i.e. owning stocks) may not be obvious to someone who took a different path in life. Remember, it is easy for us to make arguments with data, but far harder to convince someone to forget their feelings. As my favorite investment quote of all time goes (from Jeremy Siegel):
Fear has a greater grasp on human action than does the impressive weight of historical evidence.
So, what will come of the next ten years? I have no idea. But, I do know that humans will continue to be ruled by emotion. They will continue to let reason slip during extraordinary times. They will continue to view their world through the lens of pure, biased experience. You will probably do it. I will probably do it. It is difficult to do otherwise.
Ten years ago I didn't know what a stock was. I didn't know the names Marks, Munger, or Markowitz. I didn't know what I wanted to do with my life. And I never could have imagined that I would be writing a financial blog that would be read by thousands of readers across the globe each week. Of all the things that the next ten years will hold, the one I am most certain of is…change. Thank you for reading!
If you liked this post, consider signing up for my newsletter.
This is post 90. Any code I have related to this post can be found here with the same numbering: https://github.com/nmaggiulli/of-dollars-and-data
---