Today, I have a game for you. Imagine you meet someone new who claims to be a "financial expert." If you could only ask them one question to determine if they are legit, what would you ask? I call this the Financial Turing Test.
The original Turing Test was a thought experiment designed to determine whether artificial intelligence (AI) had been invented. The idea was simple. You sit down at a computer terminal where you message back and forth with some "entity" (either a human or a computer program, but you don't know which).
Assuming you can ask any questions you want, could you determine whether the entity you were chatting with was a human or a computer more than 50% of the time? If you can tell the difference, then AI doesn't exist. Otherwise, the Turing Test has been passed and AI exists.
Like the original Turing Test, the Financial Turing Test is made to help you distinguish between groups. But instead of identifying whether an entity is a computer or a human, the Financial Turing Test differentiates financial sages from financial charlatans. This XKCD comic summarizes the task well: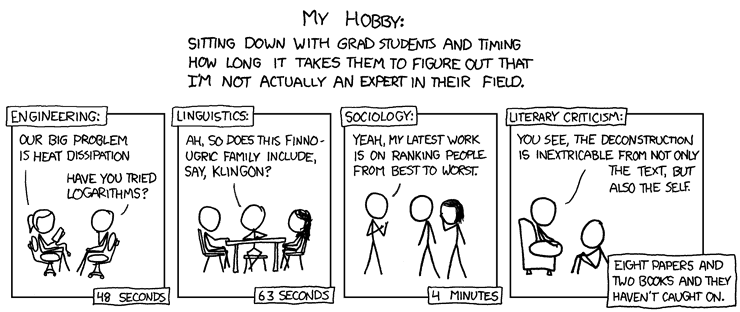 The reason I like this question so much is because it forces you to identify the most relevant information in a system. It makes you focus on the one big thing that matters most. So, what one question would you ask to stump a fake financial expert? Think about this for a second before continuing on.
I originally posed this question to Twitter and got over 600 responses that varied widely. Some people argued that anyone who claimed to be a "financial expert" wasn't an expert (so the question was moot). I see their point, but I don't think this is the most effective way to discern true expertise.
Others attacked this problem by asking, "How did you get rich?" or "What's your net worth?" I also see why this was asked, but I don't think this question is that relevant. As I have said before:
It is probably better to listen to a self-made rich person than a self-made poor person when it comes to financial matters. However, this doesn't imply that the rich person understands how they got rich.
So net worth might matter, but it also might not. It's like the logic that to be a good brain surgeon you had to have had brain cancer before. One doesn't imply the other. Lots of rich people would give terrible financial advice (and vice versa).
Some of the other responses I saw multiple times were "Do you own Bitcoin?" (from Bitcoin bulls and bears), "What's in your portfolio?" and "Do you deadlift?" (lol). While these all might provide some useful information, I don't think any single decision can define if someone is an expert. It's not that simple.
There were also individuals that asked "Do you try to time the market?" or "Where do you think the market is headed?" I like these responses because they would allow you to discover if someone thought they could predict the future (something that is near impossible to do on a consistent basis).
Even if the "expert" provides an answer that makes a prediction about the future, how they frame that prediction is the important part.
After hearing all of these responses, you might be wondering what I would ask. Well, I will tell you. I would ask this:
Imagine we could simulate the universe where each time you are born to different set of parents with a different genetic makeup. Sometimes you are born a man. Sometimes you are born a woman. Sometimes black. Sometimes white. Sometimes smart. Sometimes not. Etcetera etcetera. What would you do to have the highest probability of becoming financially secure regardless of your background?
If you wanted to re-state this question more simply, it is: How do you get rich without getting lucky?
Why do I think this is one of the best questions you could ask a supposed "financial expert"? Because it forces them to address many topics at once. They have to discuss their philosophy on spending, income, investing, and much more. They can't just provide a soundbite. In a sense, this question is cheating because it will provide more than one way to judge an individual's expertise.
Naval tackled this question very well in arguably the most popular financial Tweetstorm in FinTwit history. I recommend you read it if you haven't already. The reason this Tweetstorm did so well is that it provided the financial advice that people actually want instead of the financial pornography that they typically get.
People don't want to hear about how to get rich from someone who had rich parents, took lots of risk, or got lucky in some other way. They want to know how they can do it regardless of their background. Of course, a financial planner should take into account someone's background when helping them plan their financial life.
However, the ability to identify the common actions that lead to financial success across all people is what matters. That's how you pass the Financial Turing Test.
---
No Right Answers
Regardless of how compelling you find my argument above, there is no "right" way to determine financial expertise. We all have different life experiences, and, thus, different biases we use when analyzing information. Mine are not necessarily better than yours, just different.
I understand that it might seem odd that I am ending this article by arguing against the very point I just made a few paragraphs prior. However, that's the only intellectually honest thing I can do. As F. Scott Fitzgerald once said:
The test of a first-rate intelligence is the ability to hold two opposed ideas in mind at the same time and still retain the ability to function.
So maybe I am right on how to determine financial expertise, but maybe I am just biased. I don't know. You be the judge.
After all (whether you realize it or not) you are judging my financial expertise right now, aren't you? So…did I pass your Financial Turing Test?
Thank you for reading!
If you liked this post, consider signing up for my newsletter.
This is post 141. Any code I have related to this post can be found here with the same numbering: https://github.com/nmaggiulli/of-dollars-and-data
---