In case you haven't noticed, the stock market is now (*checks notes*) 4.2% off its all-time highs from a few weeks prior. Yet, if you looked at my Twitter feed yesterday, you would thought the world was ending. It seemed like March 2020 all over again.
But when I checked my brokerage account I was left with more questions than answers. Down 1.5%? This is what they are panicking over? Has everyone forgotten about what happened one year ago?
Maybe the data feed into my accounts was wrong. I immediately Googled "spx". Nope, no issues there. What the hell was going on?
Well, I did some digging and found my answer. Every high-flying tech stock, cryptocurrency, NFT, etc. was crashing in a fiery blaze. The ARK Innovation ETF was 24% off its highs, Tesla was down nearly 30%, Dogecoin was down 36%, and MicroStrategy Inc. had been cut in half from a few weeks prior: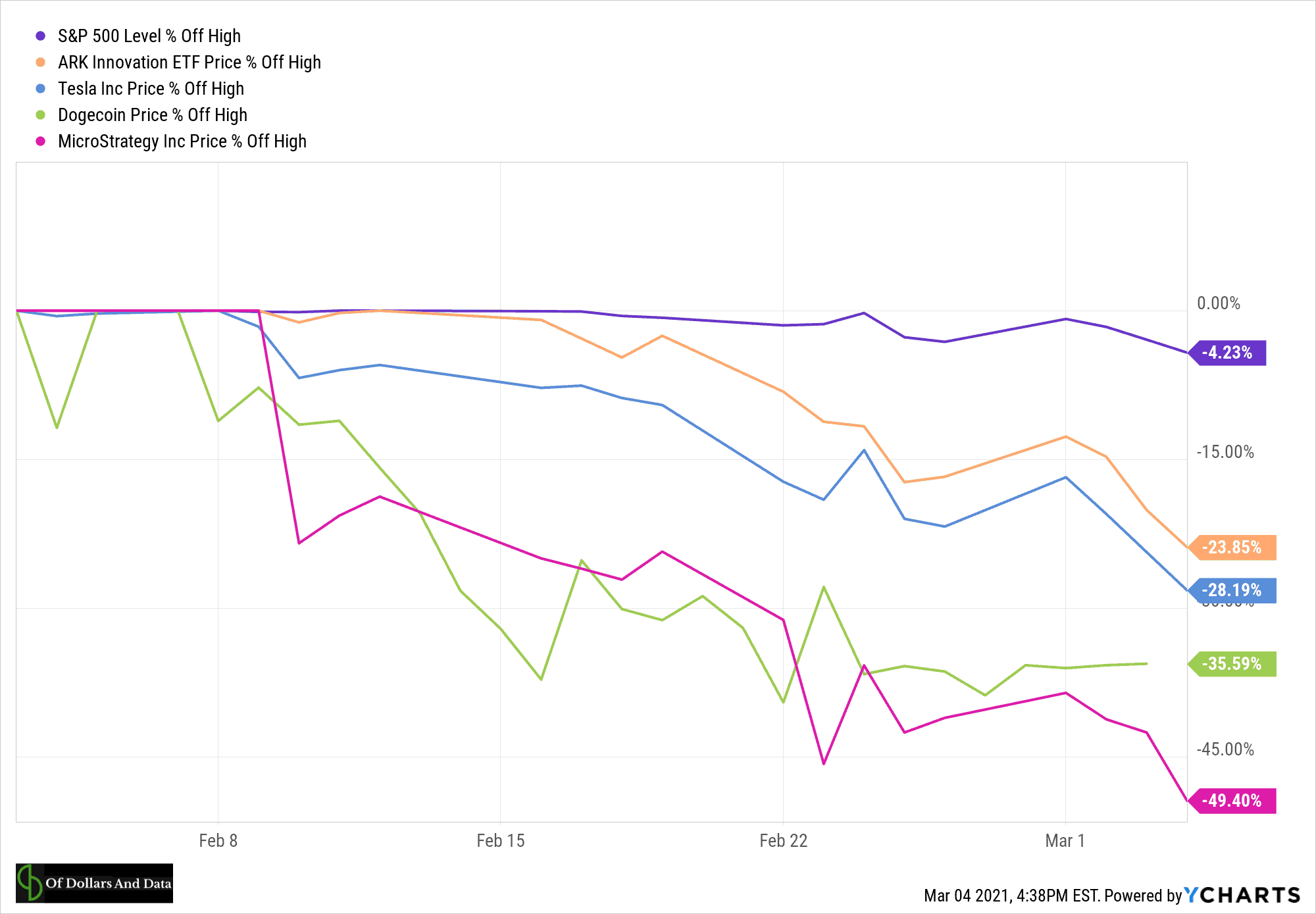 Every vehicle of speculation was getting crushed and FinTwit was having a field day with it.
As I watched this spectacle unfold, I began to realize how much of the financial conversation was being dominated by a vocal minority that I will call "meme investors." There's nothing wrong with these meme investors, but their experiences aren't reflective of typical retail investors (i.e. the silent majority).
A typical retail investor is far more likely to have diversified portfolio and not NFTs, altcoins, or concentrated positions in a few tech stocks. But you wouldn't get that feeling after scrolling through my Twitter feed, would you? Instead, you would think the financial world was coming to an end yet again.
Fortunately, I have begun to recognize the increasing disconnect between what is happening in the real world and what is being discussed on social media. For example, I recently went back to California to visit family and when I brought up anything related to crypto, NFTs, etc. all I got were blank stares. Yes, my family had heard of Gamestop and Robinhood, but that's about it.
Of course, it's not like my family couldn't understand the culture of meme investors, they were just never exposed to it. For example, I taught my Godfather about Bitcoin (on the same day I sold half of my position for $52,000) and the very next day he sent me this text as Bitcoin surged: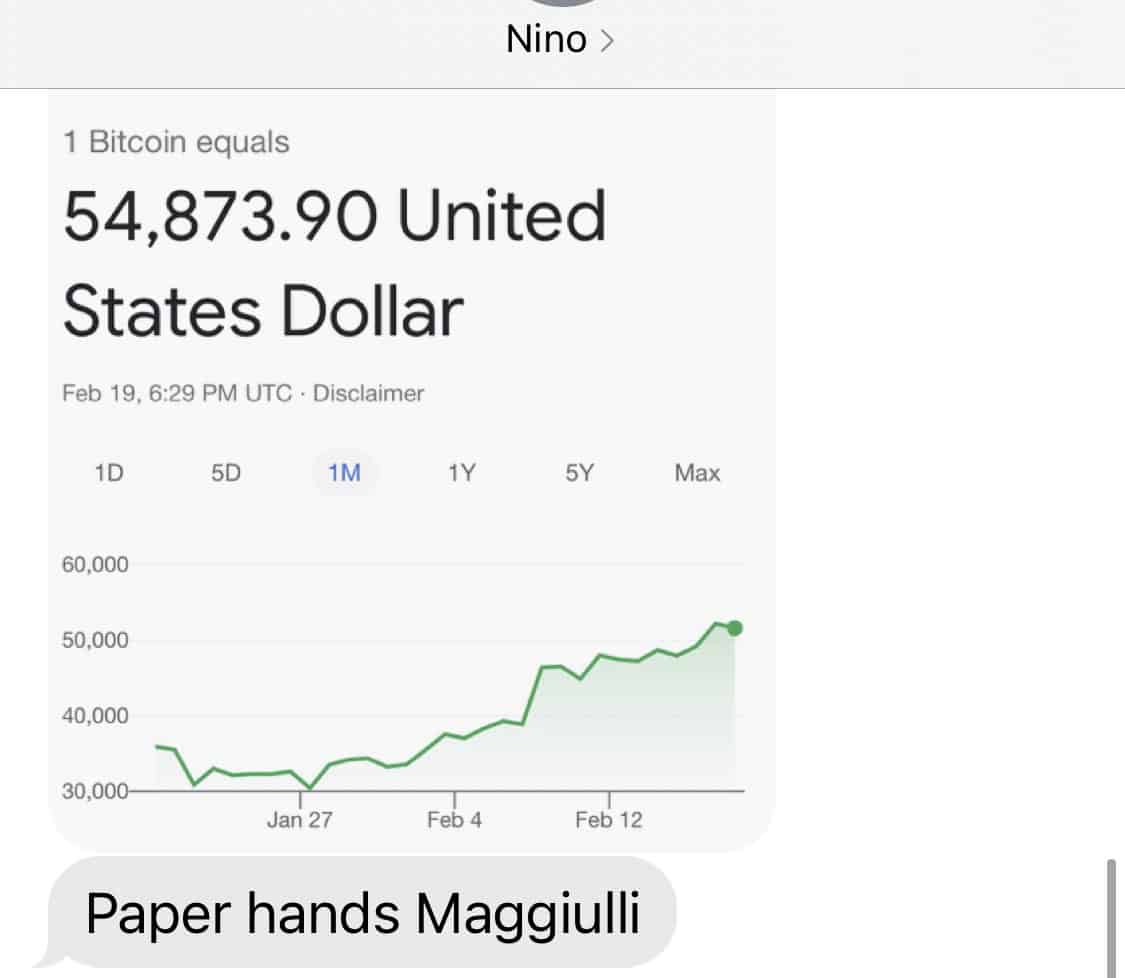 The memes are strong with this one.
This simple interaction illustrates why meme investment culture is so fun and addicting. People immediately get it and can play along. Though I don't invest in any meme assets (besides Bitcoin), I have to admit that I love it too. 2021 has been the most exciting year for FinTwit yet and that's mostly because of these meme investors.
However, it's easy to get sucked into this world and forget about what actually matters to most people. Because most investors aren't thinking about meme stocks, but, rather, how they can have enough financial resources to live the life they want now and into the future.
This dichotomy between what people are discussing and what actually matters to a typical investor reminds me of how the media overly focuses on things that are unlikely to affect you personally.
For example, though the media frequently reports on homicides and deaths caused by terrorism, the reality is that you are far more likely to die from diseases related to age/health. As the table below illustrates, the causes of death that the media reports on and what Americans actually die from are very different: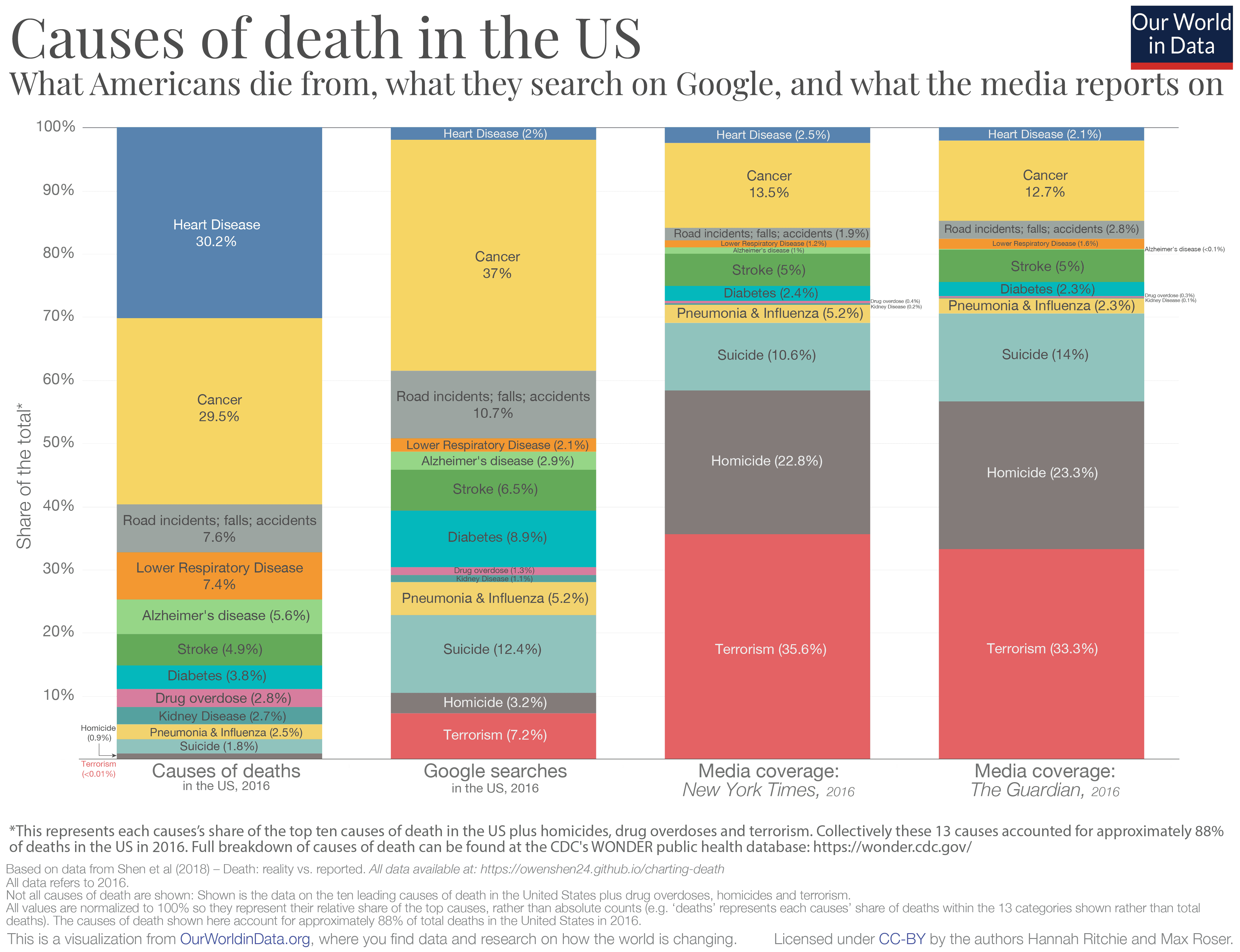 This illustrates the bias toward sensationalism within media coverage and how it has little relation to what most people experience. It doesn't respect the base rate.
The same thing happens within financial circles as well. We typically tweet about the meme stock that tripled in a week or the 100 trillion pixel image that sold for $17,000 instead of what actually impacts our financial lives.
I get it. No one wants to talk about the power of compounding or building wealth over the long term. But that's where most true fortunes are made! It's very rare that someone gets rich (and stays rich) by making big bets often. The double-edged sword usually comes for them eventually.
However, there are plenty of examples of people who worked at something for many years before they became an "overnight success." It reminds me of a question that Jeff Bezos once asked to Warren Buffett. Bezos said, "If your style of investing is so simple, then why doesn't everyone copy you?" To which Buffett replied, "Because nobody wants to get rich slow."
It's easy to forget these powerful lessons amid the ins and outs of daily life. However, it's this timeless wisdom that can keep you grounded when the rest of the world seems to be losing its head. After all, why are we panicking again?
Happy investing and thank you for reading!
If you liked this post, consider signing up for my newsletter.
This is post 231. Any code I have related to this post can be found here with the same numbering: https://github.com/nmaggiulli/of-dollars-and-data
---