Last week, Michael Batnick brought the following article to my attention:

Yeah, it triggered me.
It triggered me because without even reading the article I know that these "5 rules" have little to do with how they retired at 35. How do I know this? Because all of these early retirement articles are the same. They all say things like, "Make it a goal", "Track your expenses", "Establish a system." Blah. Blah. Blah.
But none of these things are the actual reason for how they retired early. Because the actual reason is either (1) earning a high income or (2) having an absurdly low level of spending, or both.
In the case of the blogger that wrote the article mentioned above, I don't know his income history, but I do know that, "He lives full-time in his 30′ Airstream Classic." It's too bad that one of his five rules wasn't "retire in a trailer."
But seriously, his advice has little to nothing to do with how he retired early. The reason his advice misses the mark is simple:
All the expense tracking and goal setting in the world cannot make up for an insufficient balance.
Don't just take my word for it though. Consider what the Consumer Expenditure Survey from the Bureau of Labor Statistics has to say.
A Look at the Data
For example, if you look at the percentage of after-tax income that the poorest 20% of U.S. households spend on Food, Housing, Healthcare, and Transportation, it becomes quite clear that low income is the problem here: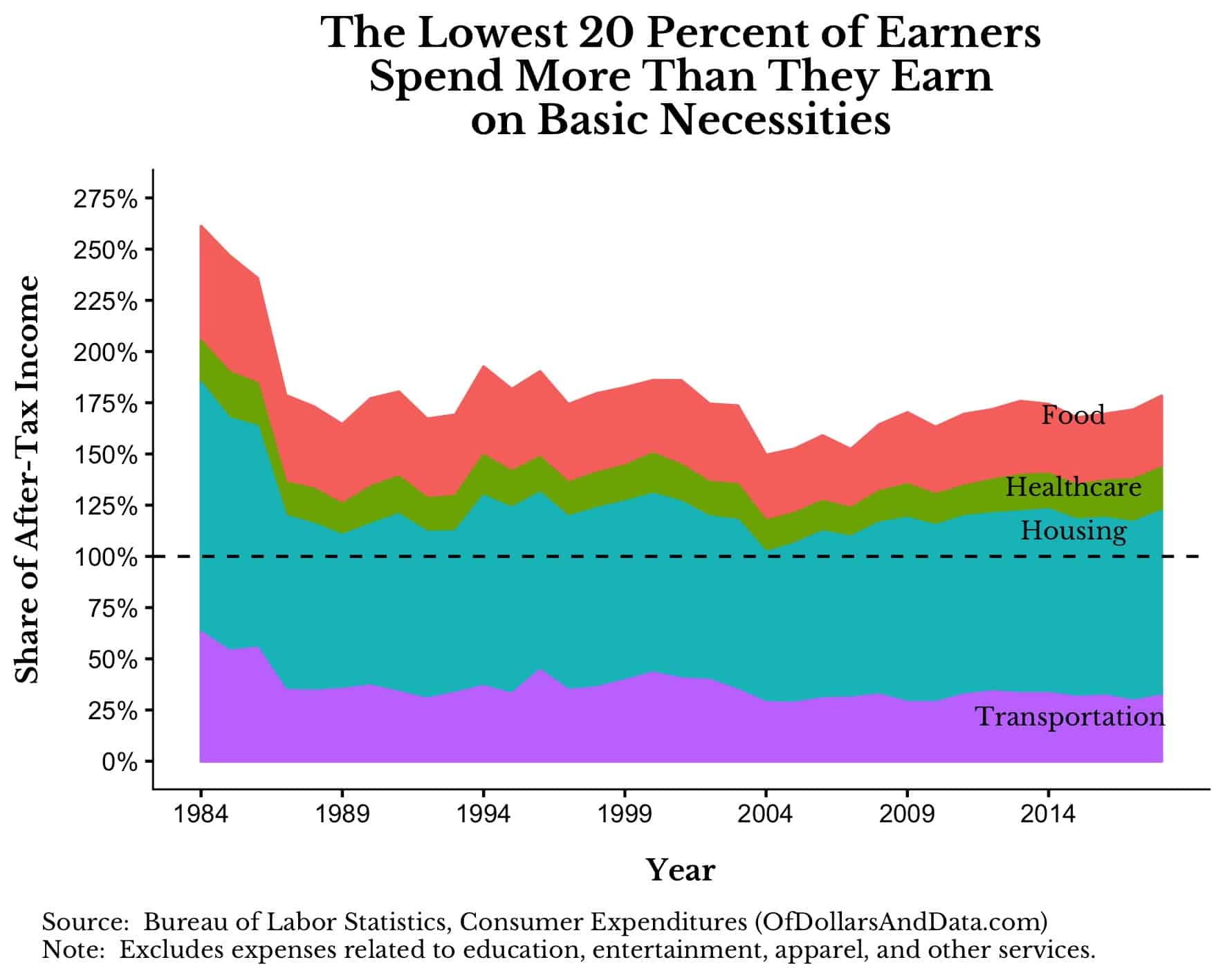 Note that this doesn't include any money for education, clothing, or any form of entertainment. Just the necessities swallow their entire paycheck and then some.
Considering that their annual after tax income is (on average) only $11,700, it's likely that many of these individuals are younger and less experienced (i.e. students) than the typical American household. Because we don't know the age or household size of these income cohorts, the comparisons are not necessarily apples-to-apples.
Despite this, the next 20% of U.S. households aren't that much better off than the bottom 20%. For example, even though the next 20% of U.S. households has an annual after-tax income ~3x higher than the lowest 20% (at $31,200), they still spend most of their income on the necessities: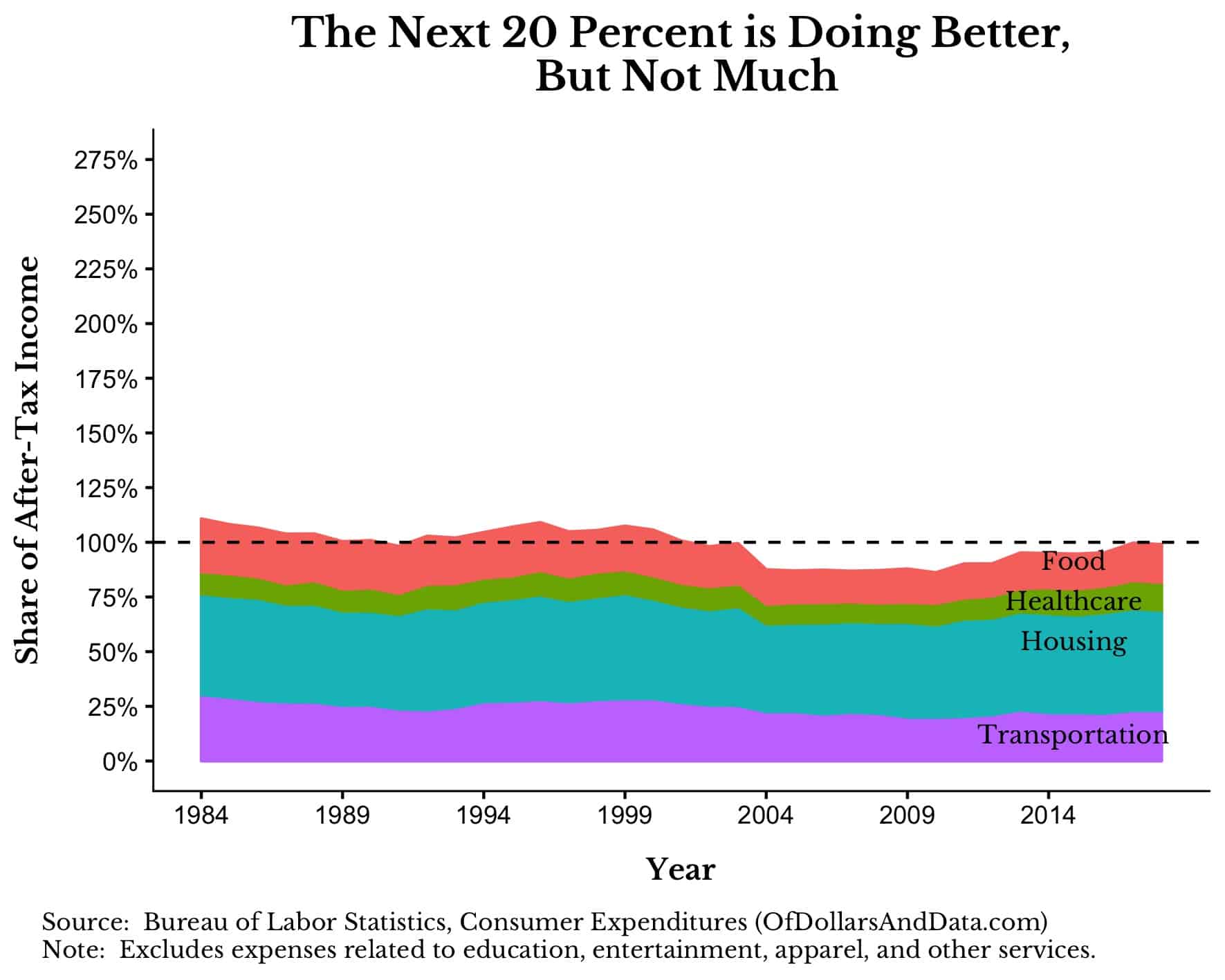 Meanwhile, the highest 20% of U.S. households, with an average income of $162,000, spend only about half of their take-home pay on the basics: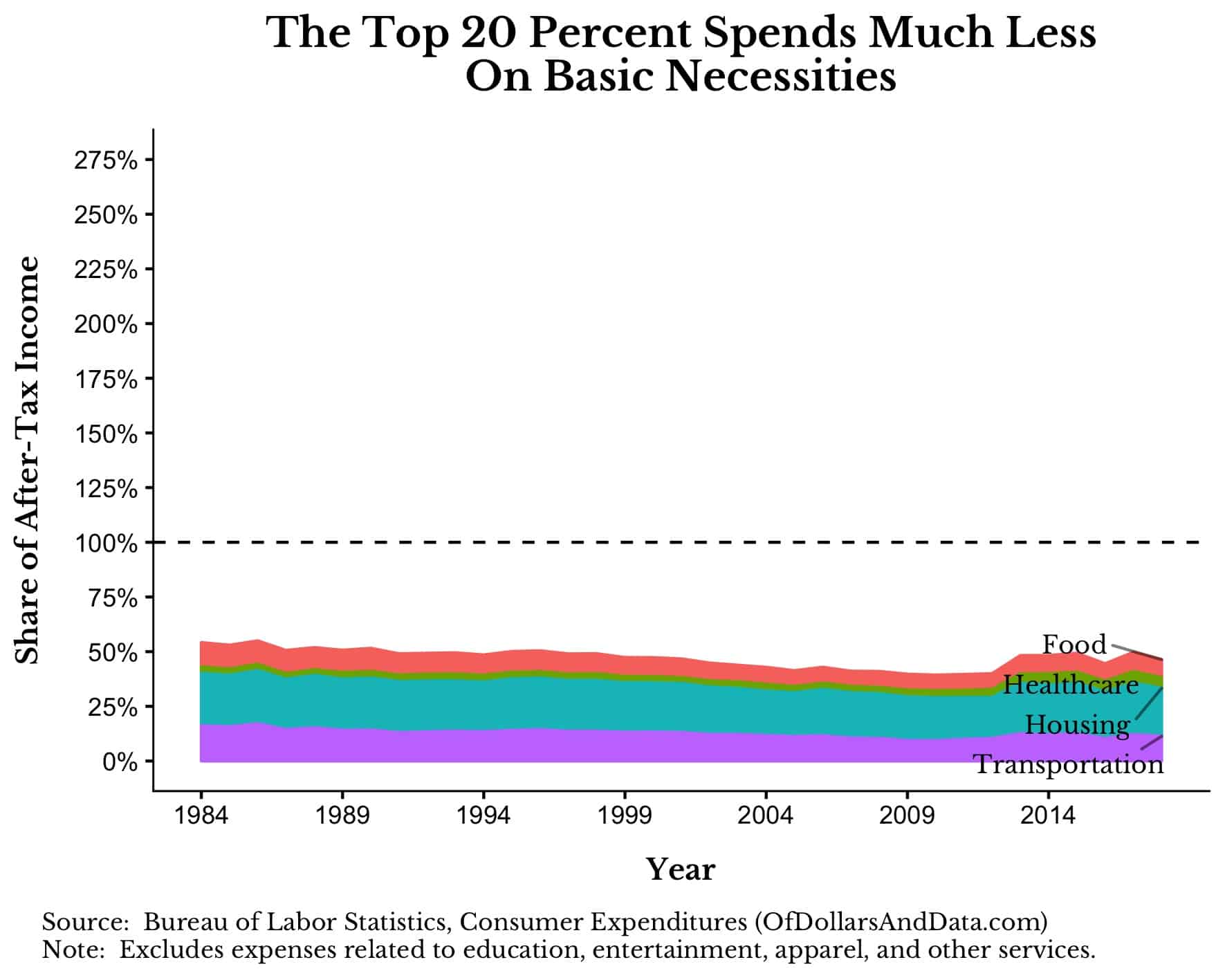 If we include expenses outside of the essentials, it looks like roughly half of all U.S. households spent more than they earned in 2018: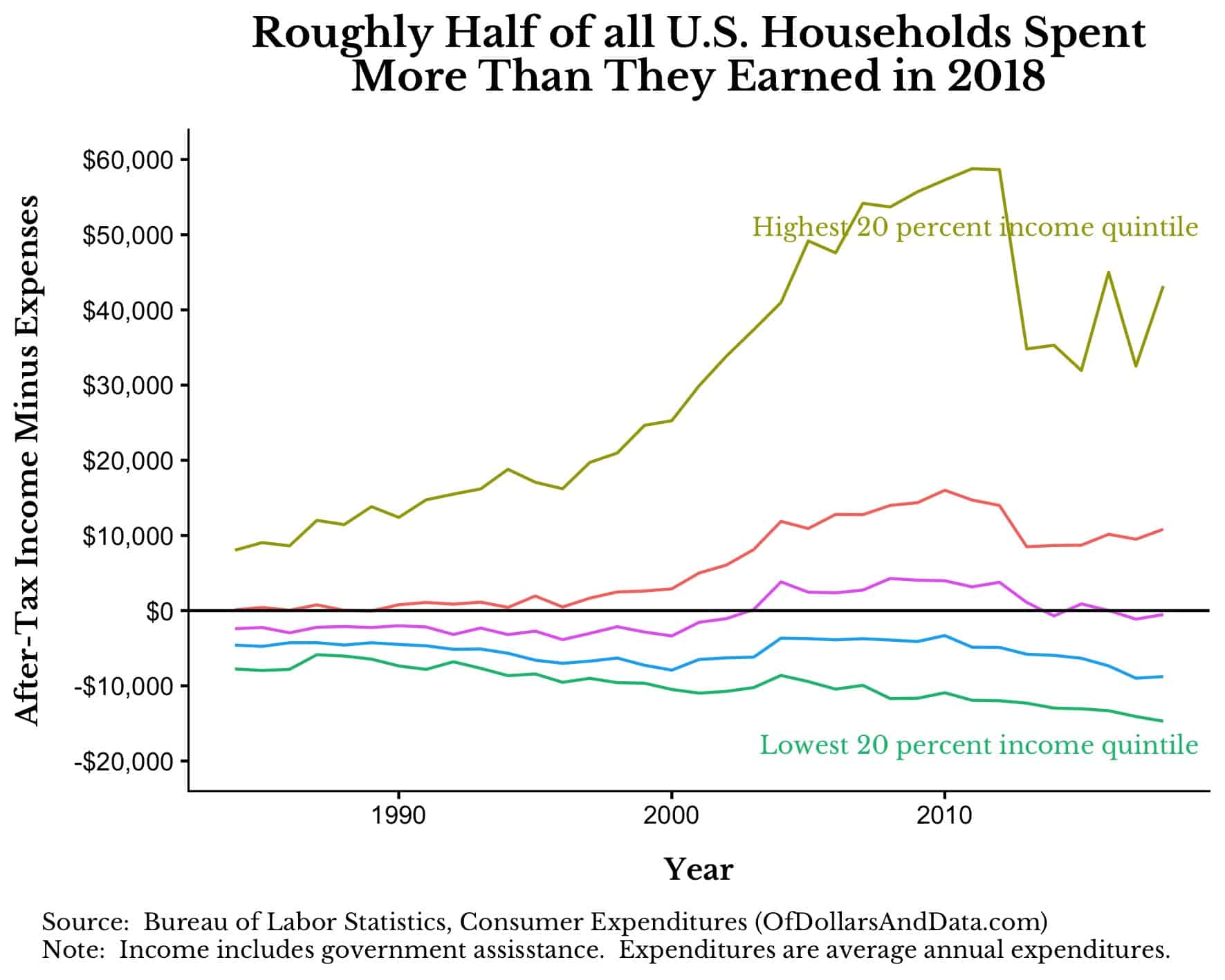 This is an unfortunate reality, but one that more clearly demonstrates why so many U.S. households find it difficult to save money. They end up spending most of their pay on just the basics!
The Biggest Lie
After seeing data like this, it is hard for me to understand how any sort of expense tracking, goal setting, or "system" is going to fix it. Yes, some percentage of U.S. households don't have the knowledge or habits or mindset to improve their financial situation.
You can probably think of a few people like this from your personal life. But, remember…n equals 1.
While there are lots of people who are in financial trouble because of their own actions, there are also lots of people with good financial habits who just don't have sufficient income to improve their finances.
That's why the biggest lie in personal finance is that you can be rich if you just cut your spending. And the financial media feeds this lie by telling you to stop spending $5 a day on coffee so that you can become a millionaire.
However, these same pundits conveniently forget to mention that this is only possible if you are earning 12% annualized returns (something that is far outside the norm of 8-10% a year).
Even if you could get 12% annualized returns, you would need to earn these returns while holding a 100% stock portfolio without panicking for decades. Easy in theory, but difficult in practice.
This is the same financial media who write stories about how people save money by living in a trailer, making their own dish soap, or reusing their dental floss. Yes, it's that ridiculous. But what really gets me is how these examples are provided as "proof" of how cutting spending can make you rich.
Just think about how condescending this message is to the typical American family. The author of these posts might as well say, "See, you poor bastard. The reason you aren't financially free is because you keep buying Tide Pods!"
But most of us can see the trick they are playing on us. We know that they are using exceptional cases and presenting them as some sort of validation of their lie. It's run-of-the-mill financial pornography.
Despite this, many of us keep reading these articles. I think we keep reading because we want to believe that there is some "secret" to getting rich. But, as I have said before, "there are no secrets."
Actually, the only "secret" that I know to get rich is to grow your income and invest in income-producing assets. Of course, that is far easier said than done.
The best way to grow your income is to increase your human capital and keep increasing it. Full stop.
And you don't have to "learn to code" either. There are many other options. For example, I saw this tweet about someone who learned 10 advanced Excel formulas on YouTube and was able to increase her income by $20,000 in just a few nights of studying.
Not everyone can do every job (i.e. everyone can't code, sell, empathize, etc.), but I believe most people can escape poverty if they put in the work.
Instead of trying to convince everyone that they can be rich, we should be trying to convince everyone that they can be not poor. Now that would be a start to undoing the biggest lie in personal finance.
---
Honest Early Retirement Articles
I didn't know how to end this post, so I started to ask myself, "What if the financial media never distorted the truth in their articles?" If so, what would an honest early retirement article headline sound like? How about:
"Wanna retire at 27? Marry rich."
Or maybe:
"Top Ramen, Is it Your New Retirement Strategy?"
And finally:
"Foregoing Procreation, Living Like a Hermit, and 4 Other Ways to Retire in Your 30s"
Special thanks to Ramp Capital for assisting with these honest retirement headlines and thank YOU for reading!
If you liked this post, consider signing up for my newsletter.
This is post 161 (but based on post #8). See analysis program 008 for the underlying code for these charts: https://github.com/nmaggiulli/of-dollars-and-data
---